Dr. Hume's Visit in 1961
Interviewers
J. Latane Ware
William W. Regan
Date
January 28, 2008
Description
Dr. Baird reflects on the experience of being in the cardiac catheterization lab with Dr. David Hume.
Citation
Charles L. Baird Jr., "Dr. Hume's Visit in 1961," in RAM Oral Histories, Item #3, http://demo.richmondacademyofmedicine.org/items/show/3 (accessed November 22, 2017).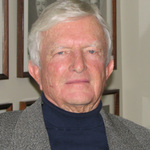 Featured Item
Dr. Cole tells of an early method for giving anesthesia to babies.